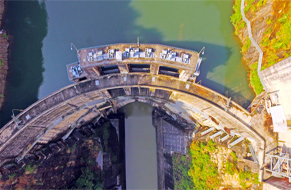 Electrical & Industrial Division is one of four divisions in the PT. Arkonin Engineering Manggala Pratama, with the activities of services for Electrical and Industrial Division include:
Electrical / Energy: Hydroelectric Power, Gas, Steam and Diesel, Power Transmission Network (SUTT & SUTET) & Substation, Network & Distribution System and Energy Conservation.

Industry: Cement and Chemical Plant, Mining and Coal Terminal (Offshore & Onshore), Infrastructure and Mining, Oil and Gas, Engineering Heavy Industry (Cement, Coal and Chemical Industry Engineering).
Division of Electrical and Industrial handles power generation (hydroelectric, gas, steam, diesel), transmission and distribution networks (high-volt-age wires and extra high voltage), the building industry, cement factories, mining, offshore and onshore, mining, oil and gas; Division of Community