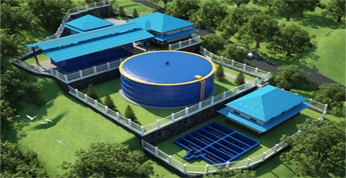 Environment Division was set up to anticipate the needs of infrastructure and facilities, along with the development in Indonesia.
Environmental Division is a division of the four divisions in the PT. Arkonin Engineering Mangala Primary. Environmental Division consists of three parts, namely: Drinking Water, Wastewater and Waste Management.
Environmental Division dealing with drinking water (intake, WTP, transmission pipelines, distribution networks major distribution network for the reservoir, mechanical / electrical and ancillary buildings), wastewater (installation waste water treatment, waste water system piping network / sew-erage systems, house connections and support buildings) and waste management (the system of segregation, collection, transportation, processing and final processing).

PT. Arkonin Manggala Pratama Engineering has vast experience in the field of Water Supply, include: Raw Water, Building Air Intake / Intake, Transmission Pipeline, Pipelines Distribution, Water Treatment Plant, Reservoir, pump, SCADA, Connections Home and other supporting buildings.
Services Expertise implemented include: Assessment, Feasibility Studies (Technical and Non-Technical), the Master Plan (Masterplan), Advisory, Real Needs Survey, Detailed Engineering Design, Supervision and Commissioning Test. Some of the major projects that have been made will be described below.
DRINKING WATER PROJECTS :
--------o0o--------
Experience PT. Arkonin Manggala Pratama Engineering in the field of waste water include: Network Piping Water Treatment, Wastewater Treatment Systems, Pump House, House Connection, and City Sanitation Community Based Sanitation. Services Expertise implemented include: assessment, feasibility study (Feasibility Study) technical and non-technical, master plan (master plan), design (DED), Advisory, SOP, Facilitate Implementation of Sanitation for Institutional and Community Supervision Development and Commissioning Test.
Some of the major projects that have been implemented will be described below:
WASTEWATER PROJECTS :
--------o0o--------
Some of the major projects of waste management that have been implemented described below:
WASTE MANAGEMENT PROJECTS:
--------o0o--------